1. Perhentian Kecil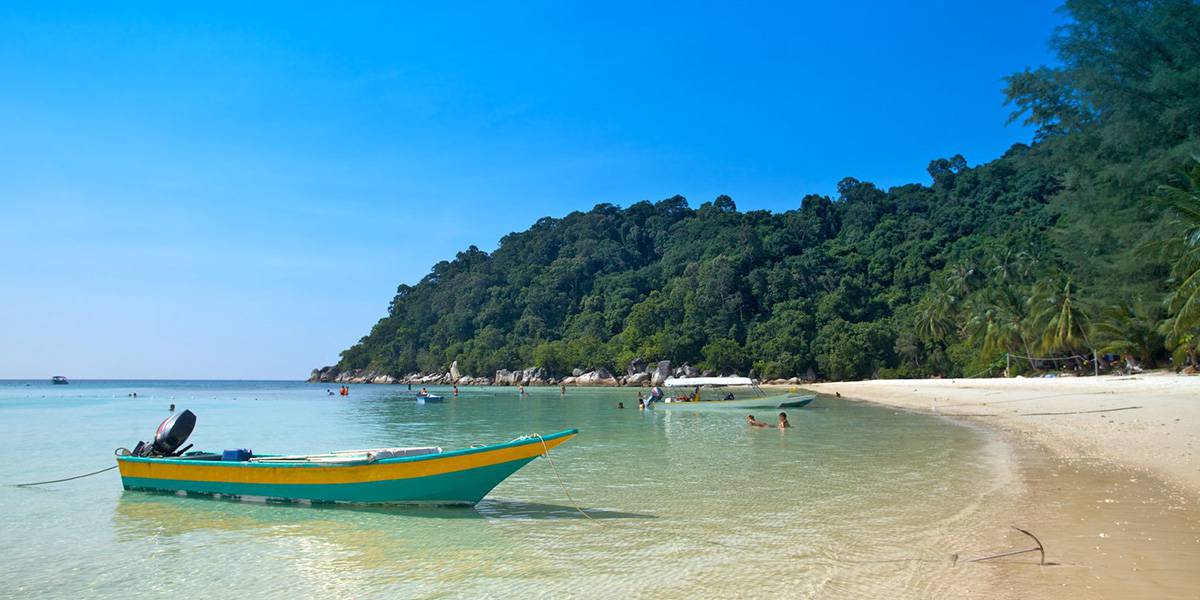 Perhention Kecil is a small island located on the east coast of Malaysia and is accessible by a one-hour boat ride from Kota Bahru/ Kuala Terengganu. Here you will find crystal clear waters which create a serene feel, making it the perfect honeymoon destination. Go snorkeling or just lay in the beach during the day, after you enjoy a nice dip in the sea. Later at night, enjoy a candle light meal at the beach and take a stroll with your partner while enjoying performances by locals and tourists.
The island is well preserved, and remains relatively untouched till today. There are no roads, so the only way to go around is by walking. You can even walk through the jungles and enjoy the nature.
Perhaps it is the stretches of white beach or the crystal clear water and the superior scuba diving or maybe it is the untouched woodlands or the relaxed environment and preserved nature. A bit of all this makes Perhention Kecil our No 1 recommendation for your honeymoon in Malaysia.
Note that most resorts here are chalet type and you will not find any over the top luxurious resorts. That's what makes this place great. The beach is so amazing, you don't need to be in an over the top resort.
Recommended places to stay: Bubu Long Beach Resort
2. Langkawi
Langkawi is located on the West Coat of Malaysia and is an archipelago made up of 99 islands. If you are a nature lover, this is the perfect place to be for your honeymoon. This beautiful place is surrounded by beautiful sea and has amazing views of paddy fields and jungle-clad hills. Langkawi is a duty free island and therefore you can enjoy duty-free chocolate and alcohol (if you consume alcohol), among other things. There are many beaches which you can relax in Langkawi surounded with beautiful coconut trees. Famous beaches include Pantai Cenang, Pantai Tengah, and Tanjung Rhu. Another great thing about Langkawi is that that are so many hotels and resorts to choose from and therefore can fit anyone's budget!
Check out our recommendations below:
Luxury Resorts: The Danna Langkawi, Four Seasons Resort Langkawi, The Andaman, The Datai Langkawi, The Westin and Vivanta by Taj
Mid-Range Resorts: Berjaya Langkawi, Bon Ton Resort, Holiday Villa, Aseanic Resort & Spa, The Frangipani Langkawi Resort & Spa
Budget Hotels: AB Motel Cenang, Sunset Beach Resort, White Lodge Motel
3. Tioman Island
Tioman Island (Pulau Tioman) is a beautiful island located in the state of Pahang in Peninsular Malaysia. This island is the known for its rich flora and fauna and is surrounded by amazing coral reefs which makes it great for snorkeling and diving. In fact, it was once recognised as one of the most beautiful islands in the world.
Tioman Island enjoys a year of tropical weather which is hot and humid with occasional rainfall. The best time to visit will be from March to August. The island is usually closed from November to January due to the monsoon season. Similar to Langkawi, this island is also a duty free island.
Go for snorkeling or diving here, or even take a walk to some of the secluded beaches and just lay there. After your done, enjoy the amazing local food!
Our recommended places to stay:
Luxury: Japamala Resort By Samadhi, Bagus Place Retreat
Mid-Range: Tunamaya Beach & Spa Resort, Minang Cove Resort, Berjaya Tioman
Budget: Bamboo Hill Chalets, Salang Sayang Resort, Genting Bayu Resort
4. Sipadan Island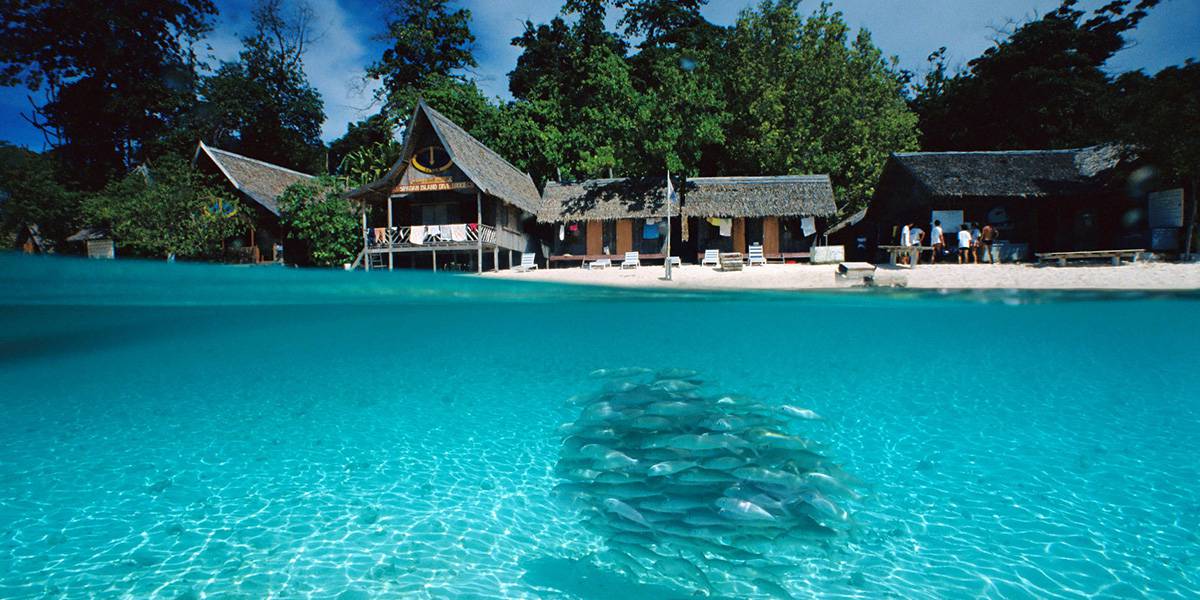 Sipadan is a standout amongst the most delightful scuba diving location in the world. This island is a haven for many ocean creatures and fish. It is also one of the rare places on Earth which has a high concentration of sea turtles. Sipadan is difficult to visit; you can just remain at the encompassing islands Mabul and Kapalai. The licenses nowadays make it significantly harder to dive at Sipadan; on the grounds that there is a limit on the number of individuals that may dive each day. Nonetheless, all the effort is well worth if you and your partner love scuba diving. This is the place to be!
5. The Dusun, Negeri Sembilan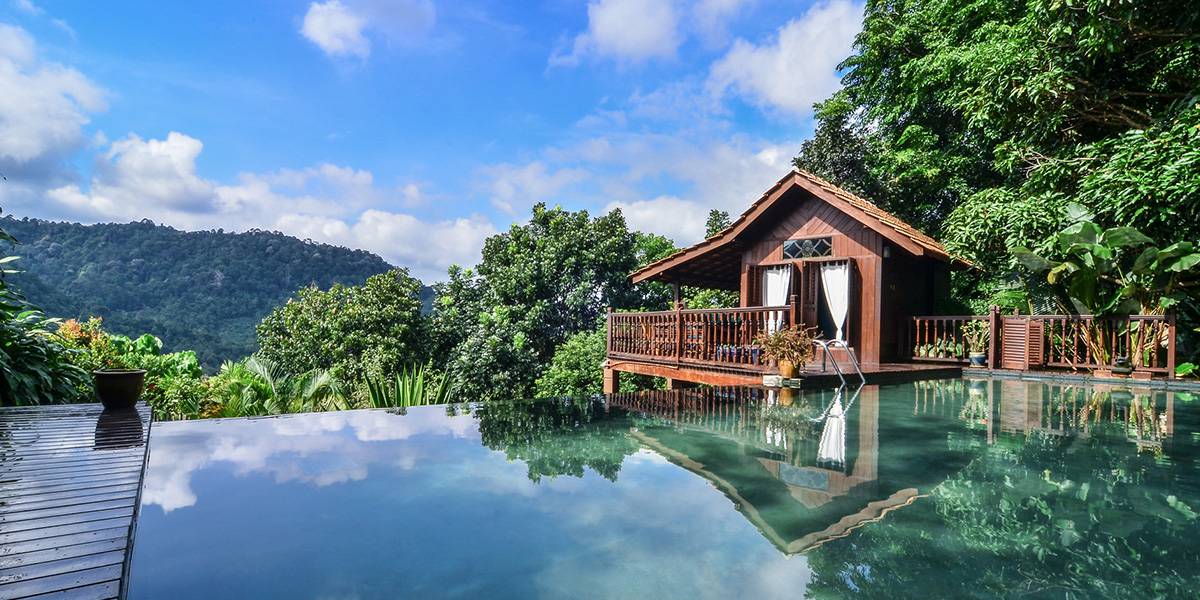 The Dusun was originally a small nature resort in 1984 which served as a holiday home for a family who fell in love with the Mantin hills. Now it has become an ideal place to rest and relax, especially for honeymooners. Here, there are many activities you can do with your partner. Take a walk in the jungle to reach an amazing waterfall or enroll yourself in one of their photography courses while you're there and learn how to capture the natural beauty of the jungle. You could also go bird watching or have a massage for total relaxation. Currently, there are 5 houses so visitors will definitely have their own private space and a sense of security. There are also 2 infinity pools equipped with timber decking and outfitted with wooden benches and loungers.
Choose the Dusun for your honeymoon if you appreciate natural air, rich greenery, jungle views, mouthwatering dishes, tranquil walks and the magnificently sounds of birds, crickets and frogs.
Rates start from RM400 per night
6. Janda Baik, Pahang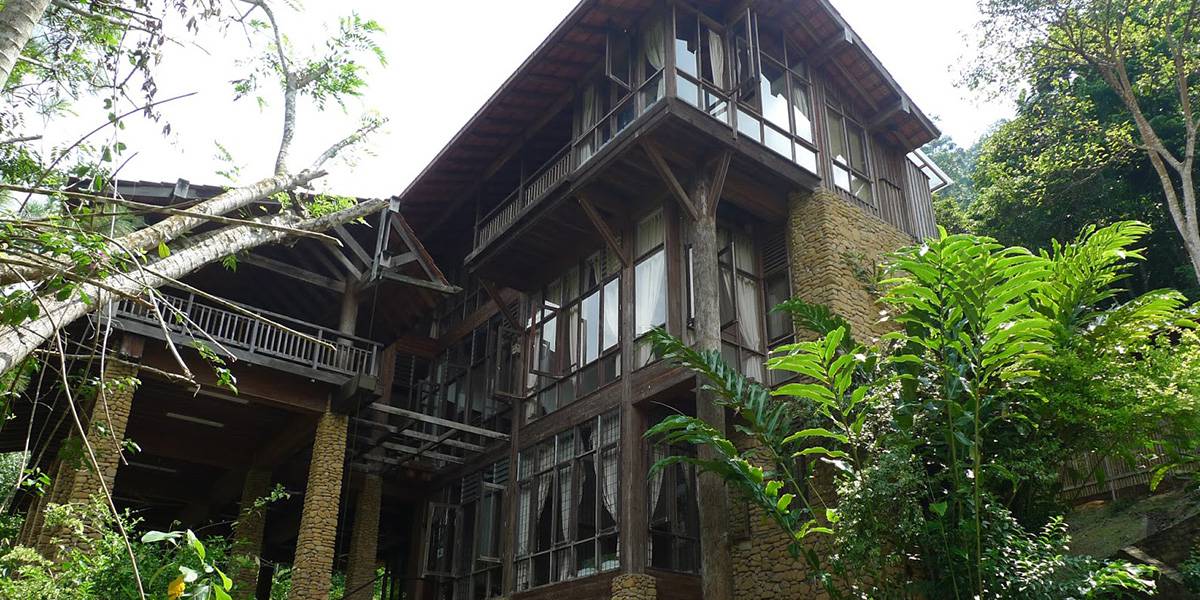 Janda Baik was discovered in the 1960s and those who lived there has a very simple yet most peaceful life. Located in the small village of Bentong, Pahang, Janda Baik is a simple Malay 'kampung' with a population of about 1000 people. You can enjoy a cool tropical climate here of 21 °C (night) to 28 °C(day). This is an ideal place for honeymooners who wish to enjoy the natural tropical rain forest.
There are many resorts in Janda Baik, but our No 1 recommended place for honeymooners would definitely be The Enderong Resort (featured in picture above). This resort was built in 2001, and won an architectural design award from the Malaysia Institue of Architects (PAM) in 2004. The Resort made up of The Enderong House, a three-storey stone and timber house with large glass windows and high ceilings so visitors can appreciate and enjoy the cool mountain breezes and the views of surrounding rainforest, The Cottage, and Annex Rooms. Choose whichever suits you best and book early as this place gets fully booked really fast!
Rates start from RM370 per night
7. Cameron Highlands, Perak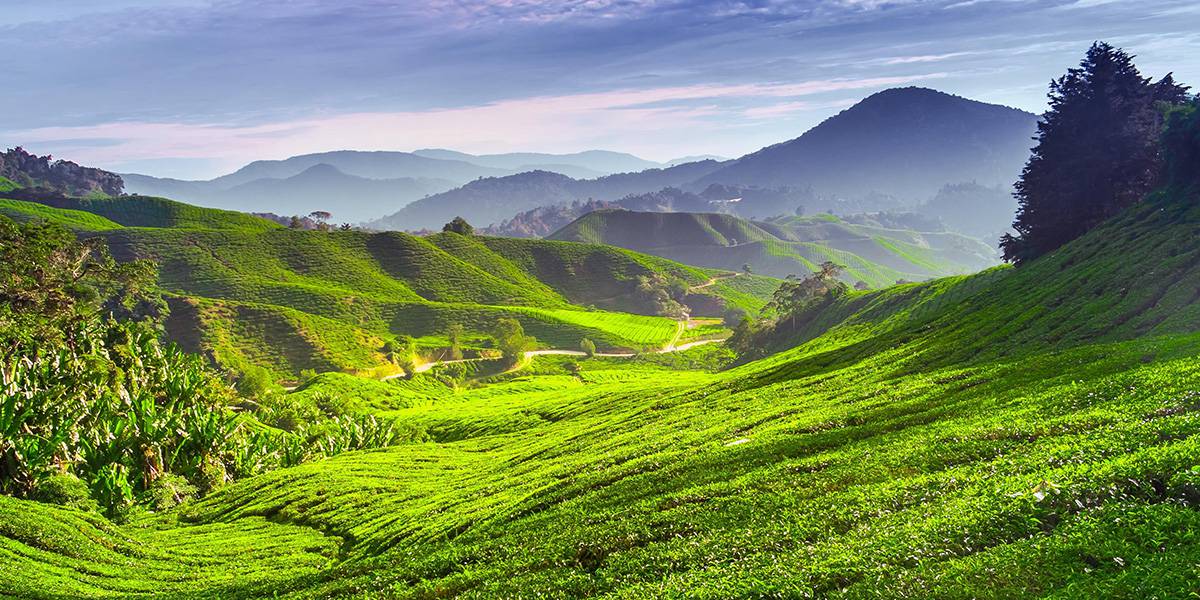 Cameron highlands is located in the state of Perak and was discovered by Sir William Cameron in 1885. Camerons is one of the rare places in Malaysia that has an average temperature about 18C and has a large variety of flora and fauna. There are more than 700 species of plants that grow here and is famously known its tea plantations, vegetable farms and flower nurseries. There are many things to do while you're here. For honeymooners, try having a mystical walk through Mossy Forest, visit a tea plantation, grab some fresh strawberries from the Big Red Strawberry
Farm or even take adventurous jungle hike!
Our recommended places to stay:
Luxury: Cameron Highland Resort, The Lakehouse
Mid-Range: Strawberry Park Resort, Century Pine Resort, The Smokehouse Hotel & Restaurant
8. Banjaran Hotsprings, Perak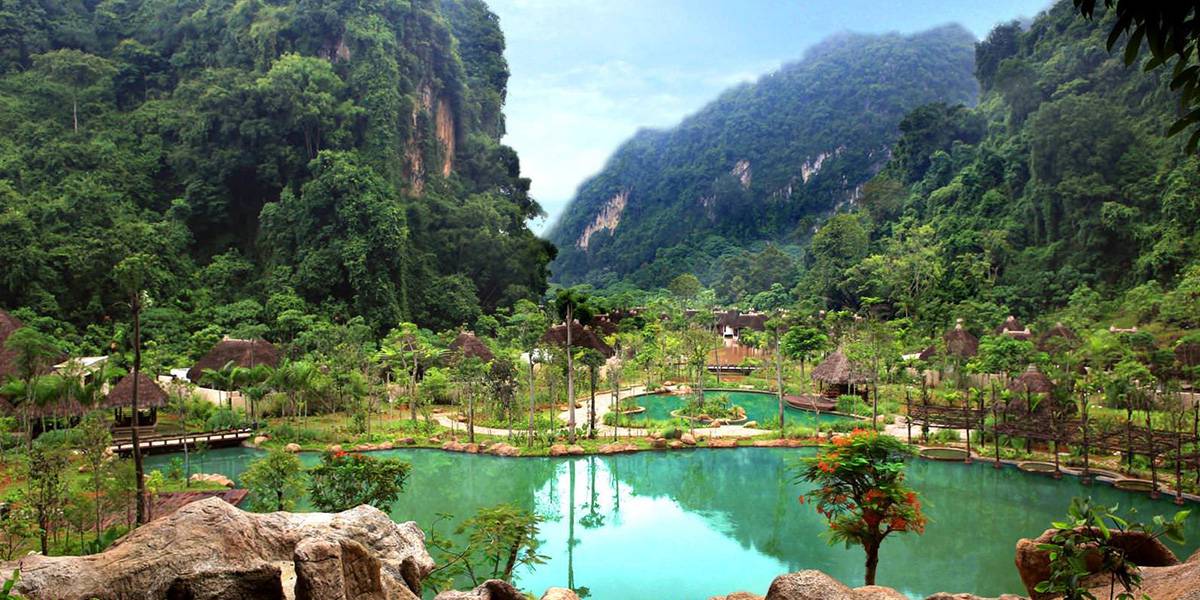 The Banjaran Hotsprings Retreat is located in a 16.19-section of land valley, supported by 260 million-year old towering Paleozoic limestone slopes, rainforest, rejuvenating geothermal hot springs, natural caves and waterfalls. The is the perfect spot for honeymooners to go for total relaxation, unwind and connect with each other. There are 25 Garden and Water villas, a pampering Spa and Wellness Centre and a range of other activities to help you relax.
Take a dip into their famous hot springs, walk through the jungle or simply meditate in peace in the Meditation Cave. Indulge in this beautiful resort for an everlasting honeymoon that you'll never forget!